RIMMs use only a 16-bit interface but run at higher speeds than DDR. To get maximum performance, Intel RDRAM chipsets require the use of RIMMs in pairs over a dual-channel 32-bit interface. You have to plan more when upgrading and purchasing RDRAM.


Types of Memory Slots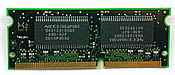 From the top: SIMM, DIMM and SODIMM memory modules
Memory Speed
SDRAM initially shipped at a speed of 66MHz. As memory buses got faster, it was pumped up to 100MHz, and then 133MHz. The speed grades are referred to as PC66 (unofficially), PC100 and PC133 SDRAM respectively. Some manufacturers are shipping a PC150 speed grade. However, this is an unofficial speed rating, and of little use unless you plan to overclock your system.
DDR comes in PC1600, PC2100, PC2700 and PC3200 DIMMs. A PC1600 DIMM is made up of PC200 DDR chips, while a PC2100 DIMM is made up of PC266 chips. PC2700 uses PC333 DDR chips and PC3200 uses PC400 chips that haven't gained widespread support. Go for PC2700 DDR. It is about the cost of PC2100 memory and will give you better performance.
RDRAM comes in PC600, PC700, PC800 and PC1066 speeds. Go for PC1066 RDRAM if you can find it. If you can't, PC800 RDRAM is widely available.
CAS Latency
SDRAM comes with latency ratings or "CAS (Column Address Strobe) latency" ratings. Standard PC100 / PC133 SDRAM comes in CAS 2 or CAS 3 speed ratings. The lower latency of CAS 2 memory will give you more performance. It also costs a bit more, but it's worth it.
DDR memory comes in CAS 2 and CAS 2.5 ratings, with CAS 2 costing more and performing better.
RDRAM has no CAS latency ratings, but may eventually come in 32 and 4 bank forms with 32-bank RDRAM costing more and performing better. For now, it's all 32-bank RDRAM.